Key features
Format flexibility
AllRoamer's flexible Format Adaptor module handles all kinds of MSC, Billing System, GPRS and other vendor specific formats. Virtually any type of Call Detail Record (CDR) can be read, edited, filtered, analyzed and converted.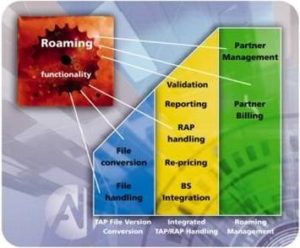 Wholesale rating and discounting
AllRoamer can simplify your rating tasks with its configurable Roaming Rating Module. It allows mobile operators to handle multiple rating structures targeting different kinds of user groups in different currencies. Value-added and content-based services are also supported. 
Re-pricing, which is the recalculation of roaming charges for calls made in the visited network, is another feature of this module. With AllRoamer, re-pricing can be done without billing system modification.
Partner management
AllRoamer can validate incoming rated TAP records according to partner specific conditions. Roaming agreements, partner operator details, tax and exchange rates, billing periods, volume discounts, and bank account details are recorded and managed in AllRoamer.
Roaming fraud detection

ALLROUND's Fraud Detection System has been in operation for 20+ years. Our expertise in identifying a wide range of fraudulent behavior (including roaming fraud detection using NRTRDE records) is incorporated in this module.
Benefits
Reduce cost, increase revenue and
improve control over your roaming
business by having a system dedicated
to this purpose.
Better track and manage roaming
business, and identify new revenue
opportunities by analyzing customer behavior.
Dynamically carry out targeted
marketing campaigns specifically tailored to roaming subscribers.
Why our customers have chosen us
Quick implementation
Flexibility
Price
Cost-efficiency
Technology
Modular structure
…